Day: 257
The last few days have been a series of big build ups to rather unexciting climaxes, rather like a lot of people´s Prom night.
When we arrived in Leon, we knew coming in that there had been a lot of political tension, warnings by the state department for Americans to stay out, and political protests, some of which had turned violent. We decided to come anyway and on our way in saw bus after bus of protestors making there way into Managua, the capitol, waving Black and Red flags. Apparently in the recent elections there was such a high level of fraud that the government decided to veto the results and hold a new election.
So, in light of this decision locals expected huge protests with rallies clogging the streets, cops with tear gas, rubber bullets, fire hoses, the works. The night we arrived we heard constant firecrackers, what sounded like gunshots and sirens going off. People were walking the streets banging on drums and dancing around in bizarre costumes, which looked to be culturally significant, but as for the political meaning, if any, I never found out. It razzled us a bit and the owner of the hostel here told us to expect a crazy day of political activism and that there was a good chance we wouldn´t be able to go outside. So, Tamarah and I called it a night wondering if we had made a bad choice in coming, but also a bit excited by the electricity in the air and for a chance to see firsthand people exercising their rights to protest a corrupt government (or in some cases, their support for said government).
The next morning was beautiful, sunny and hot, with people peacefully going about their day. We hung around for a few hours to make sure nothing would erupt suddenly, but in the end nothing happened. We were both relieved and a little disappointed to be honest.
So, we made our way out to a little village called San Jacinto, which was home to what we thought were hot springs and warm mud baths. We were picturing warm, bubbling mineral pools we could relax and soak in, and exotic mud pools possessed of some cleansing powers that cured the locals of all manner of illness. Well, this turned out to be another overly hyped tale, and in reality consisted of a few bubbling pools of sulfurous mud so hot that the local kids could cook corn in them. It was more like a vision of one of the middle levels of hell than the relaxing paradise we imagined.
But, it was still a fun excursion as the local kids that showed us around were very funny and energetic and made the day enjoyable. The village itself was really interesting, being built along a dusty, rocky road. It is crazy to go from Leon, a beautiful if somewhat run down colonial city some 500 years old to a tiny village just down the road and probably just as old that looks like it is just a few steps from the stone age. Every hut was dirt floored, with no electricity or running water. The kids had to run down to the river with large buckets to get water for the household. People got around on horseback and there were all kinds of livestock milling about.
The people were however, universally friendly and nice. A characteristic that seems pretty common in this country. The kids were just kids too, the boys running around kicking each other and laughing, shooting things with sling shots. The girls smiling and picking flowers. Its funny, no matter where you go, kids are all the same. Its only the culture they live in that shapes them into adults different from those of any other place.
We gave the little munchkins a few bucks for showing us around and came back to Leon. Tomorrow we head off for the Corn Islands, which we are both really looking forward to, but it will be a bit bittersweet too as it will also mean the end of our time together. That is the thing with traveling, you meet great people, bond, only to go separate ways with the chance of seeing one another again not so good. But, you never know. I have two friend coming in to travel with me in the near future too, so that will be nice.
Until next time!
The oh so luxurious mud baths...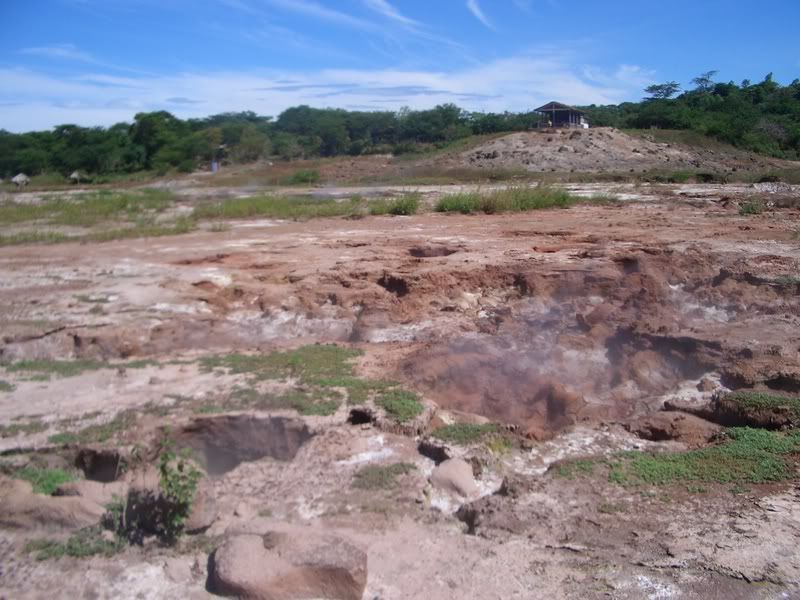 Looks inviting, doesnt it?
It smelled like rotten eggs.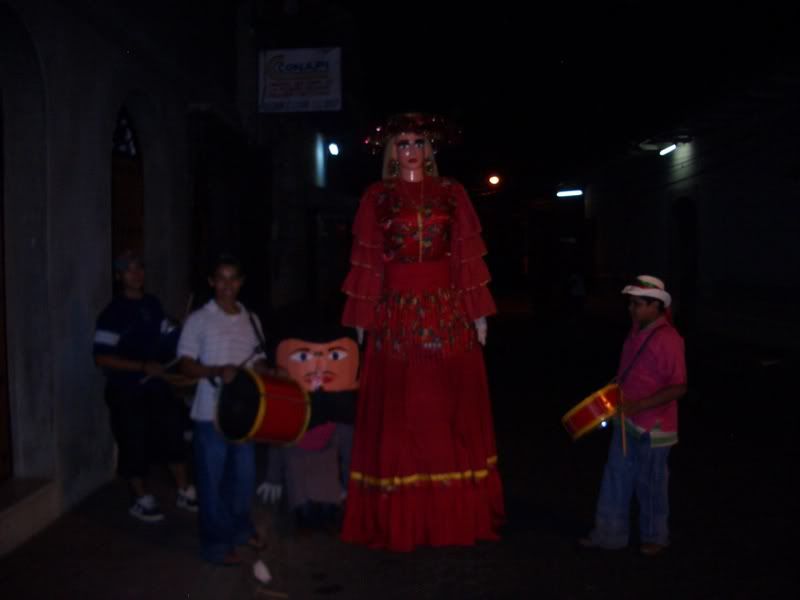 We saw a lot of people walking the streets in this strange costumes playing music.
The kids that helped us out, weird, none of them are smiling in the pic, but the entire time we were with them they were running around laughing and singing and what not.