Day: 180
Bocas del Torro, Panama.
A serious jam session broke out with tons of people joining in using everything you can imagaine for insturments.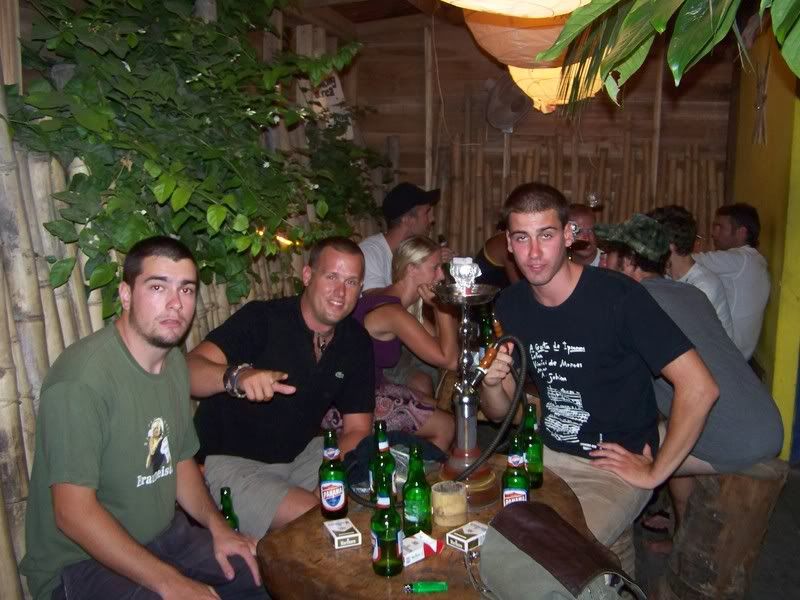 Hanging out at the Hostel for 50 cent beers.
This is what we get to watch every evening.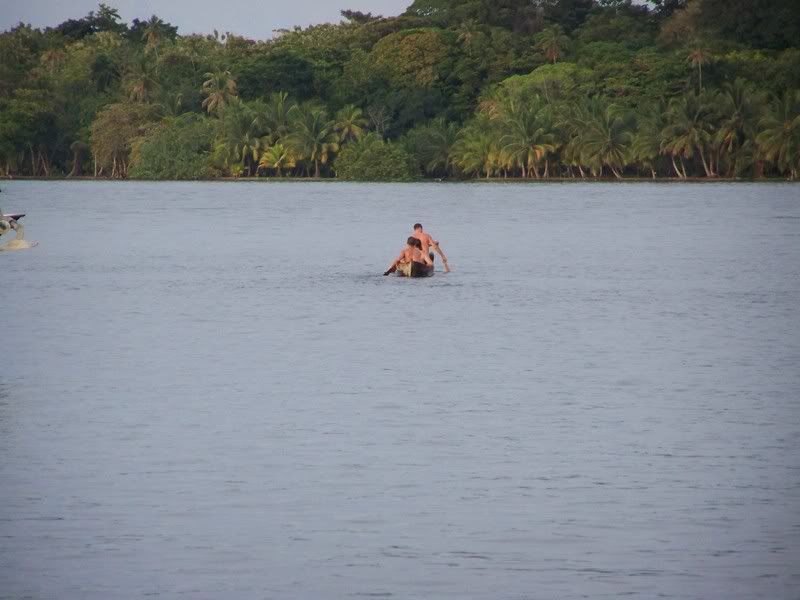 Us in the Canoe heading out to the sand bar.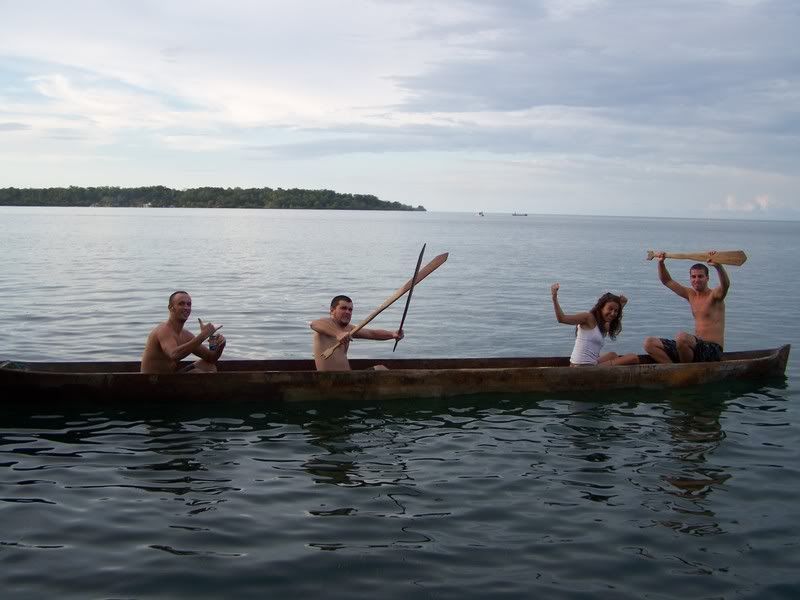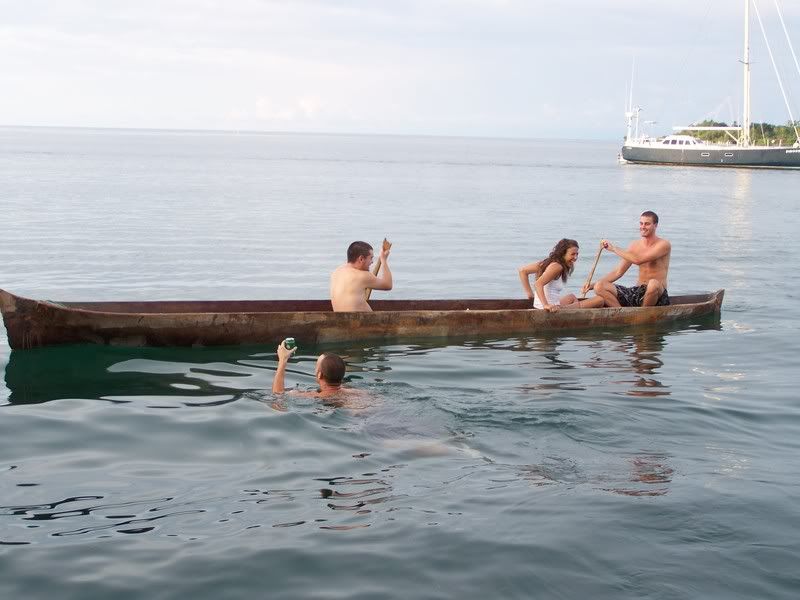 Swimming while keeping your beer above water. Its a talent.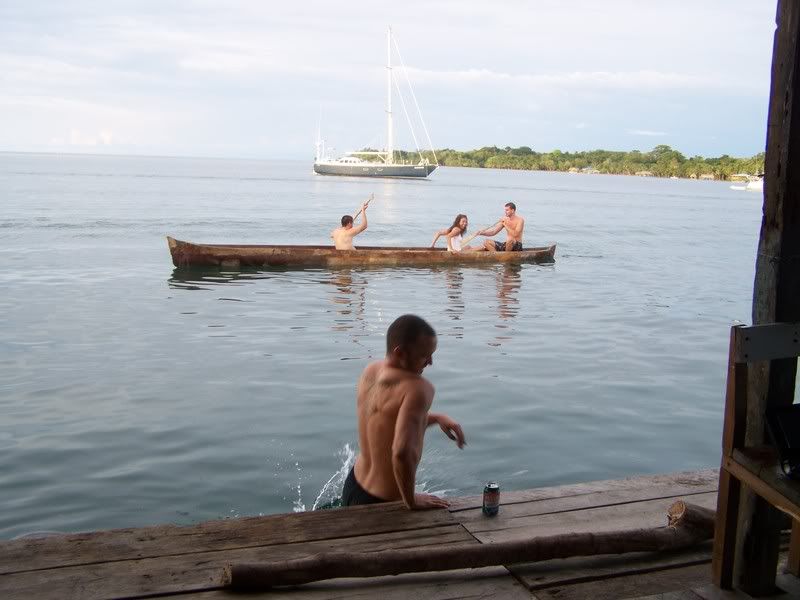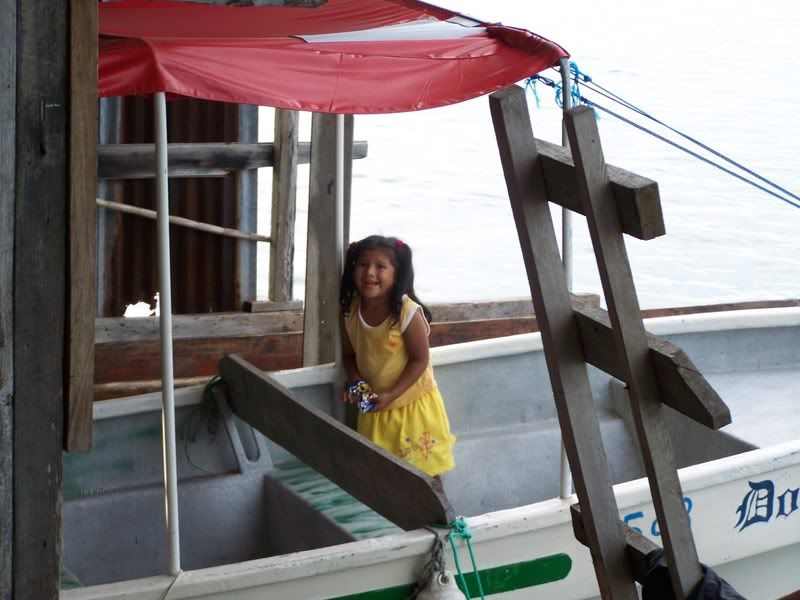 This little girl was funny, she loved attention and hung out with us for a few hours.
You see lots of really nice boats around here.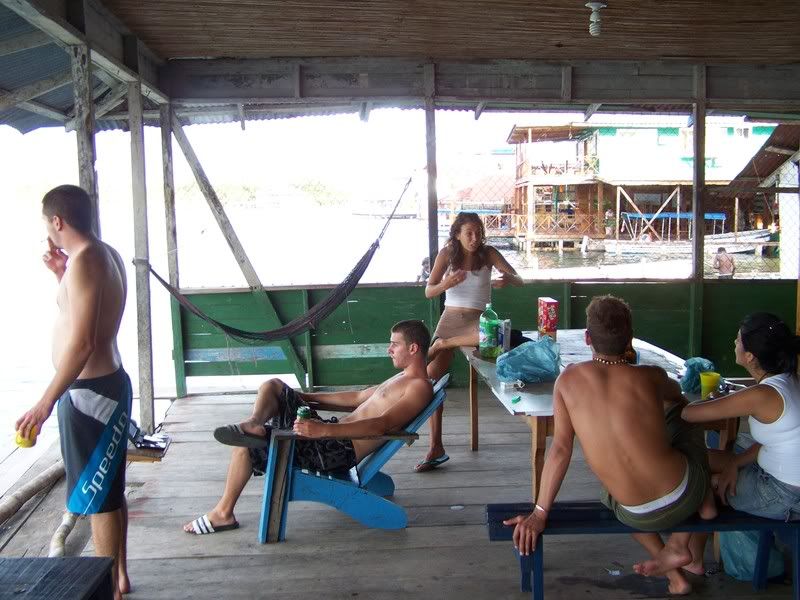 Another international crowd to hang out with. Switzerland, Argentina, France, Mexico and myself from the states. It was nice to spend the day just relaxing on the water and chatting.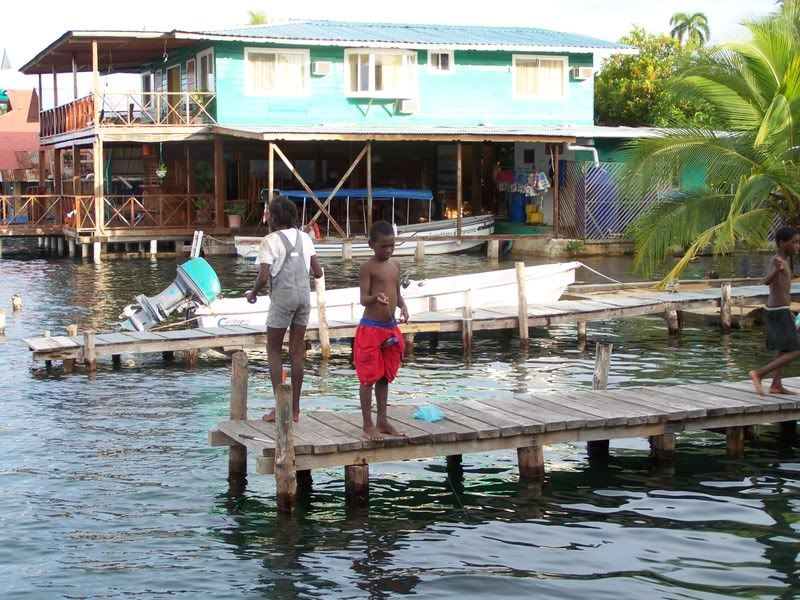 Some local kids fishing by hand with no rod or reel. I saw them catch a couple fish too.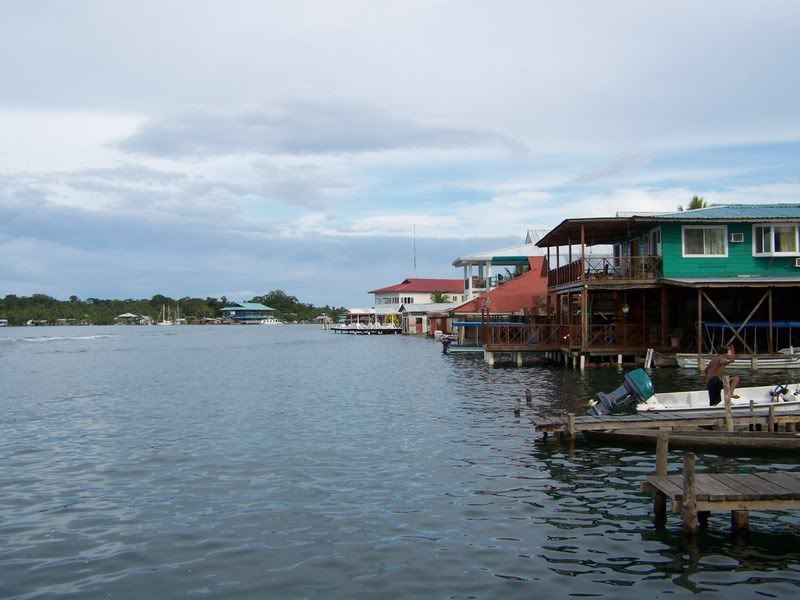 Isla Colon, my home base in Bocas.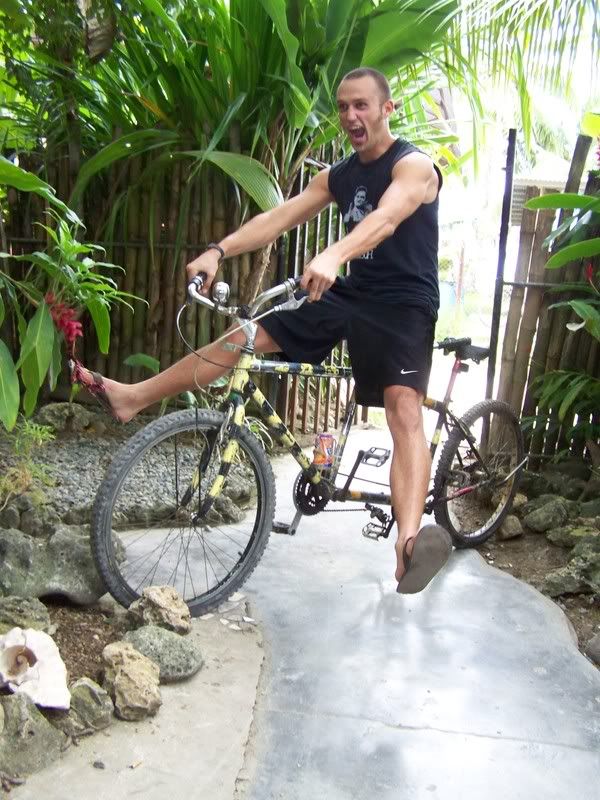 I found a new bike! Its a pretty sweet tandom, so who wants to come with me?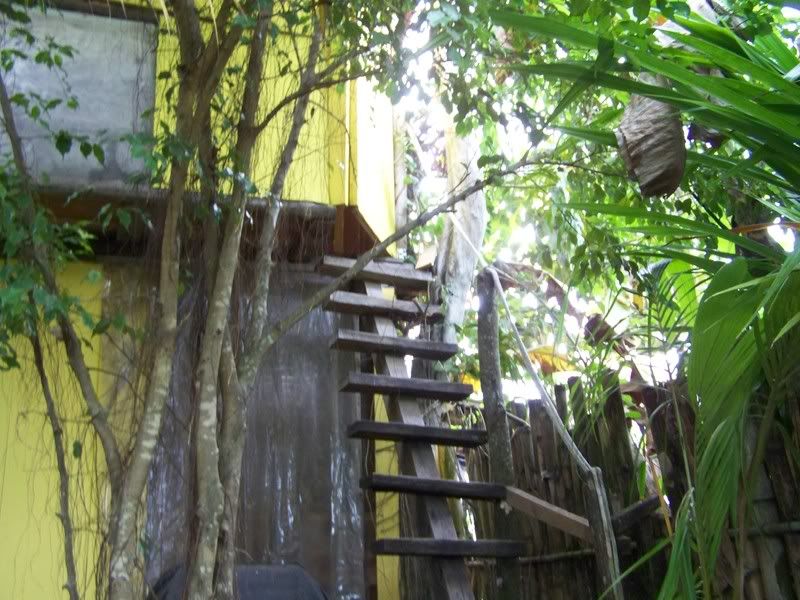 One section of my hostel.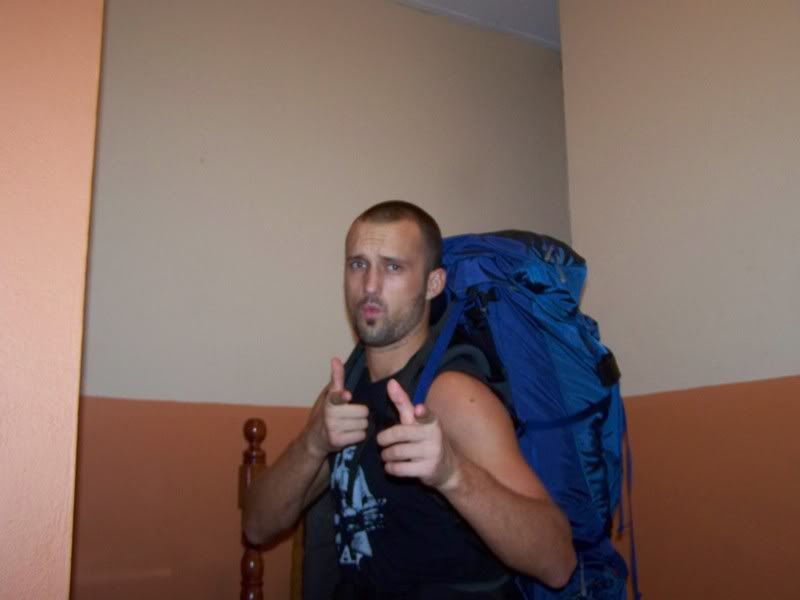 My new rig, the backpack!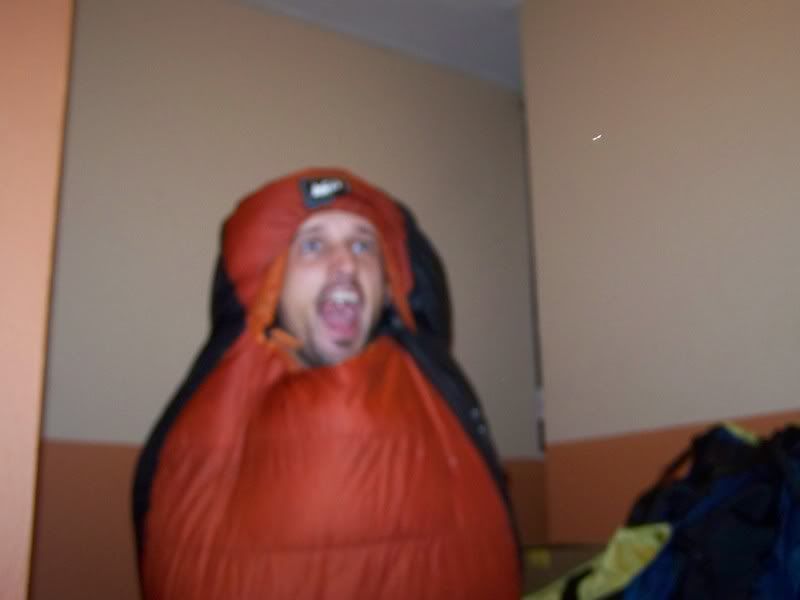 This is what happens when you are stuck in a room for weeks by yourself with nothing to do!
I am so glad that I chose to come to Bocas del Torro instead of going straight to Panama City. Bocas is a wonderful combination of Latin and Carribean culture mixed with expatriots from all around the world. Its a very laid back place and just unbelievably beautiful. The water is clear and warm, the islands are incredibley lush, the people are very nice and take life slow. This is the kind of place you come for a weekend and then never go home.

I have been having a wonderful time and this was just what i needed after being stuck in a hotel room by myself for weeks on end. I am staying at a really fun Hostel called Mondo Taitu and its quite a lively place. The clencher for me though are the fifty cent beers and free panckaes for breakfast. I have not gone to bed earlier than 4 in the morning since I have been here! I love Hostels for that reason, you get a chance to hang out with people from all around the world and you make instant friendships. Yesterday myself, an Argentinian girl and two Swiss guys found an old wooden Canoe and paddled it out to a sandbar in the middle of the bay where the water is only about a meter deep, and drank some beers and watched the sunset. It was such a weird feeling to be standing only knee deep in water in the middle of a bay with boats going by us on every side. We joked that we should bring out some tables and chairs and eat dinner out there!
That night some guys at our hostel broke out some guitars and started playing and before we knew it, people were playing spoons, bottles, clapping, singing, it was a really good time. We followed it up with dancing at a bar that sits on the water and below it is a sunken ship that you can see through the bottom of the place, it was really cool and we had a blast jamming out to some regae.

Today about 35 of us hired some boats to take us to an island where we went to hang out at a place called red frog beach. We were body surfing, drinking some cold beers, and playing volleyball all day. I am ashamed to admit, team America stunk it up and lost to Team Switzerland, Team Panama and Team Germany on the volleyball court. It was a rough day for the old American boys.

As I said, this place is simply wonderful. Its cheap, beautiful and a ton of fun. Everyone here is in a good mood, and while its very touristy, it still feels authentic. So far, there are no big hotels, no highrise condos, etc. Its mostly all still brightly colored wooden houses the way it has been for ages. In my opinion, Panama is the coolest place in Central America. I liked a lot of the other places I have seen a lot, but Panama has proven to be great, far better than Costa Rica without question, plus its cheaper! I think I will stay here for a week, then head into the mountains for some white water rafting.

Untill next time!