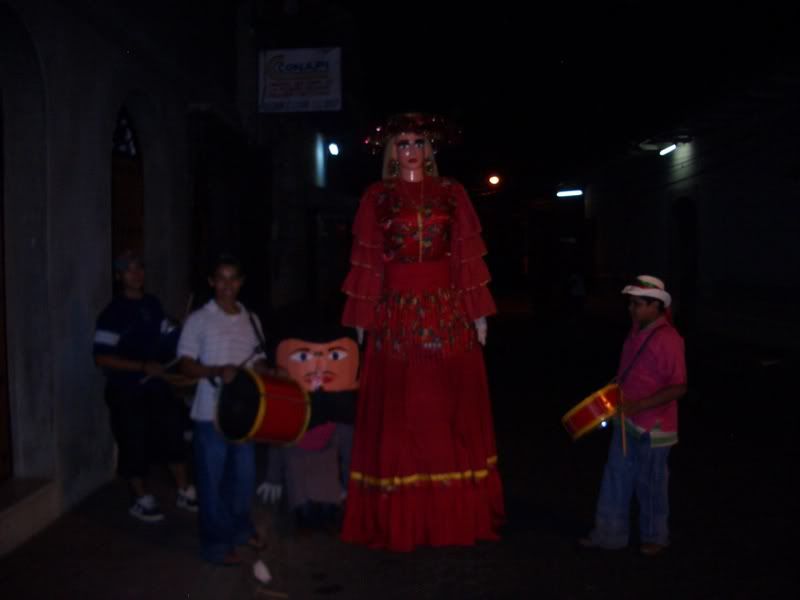 Old pic, but some of the cool costumes the kids run around in in Leon.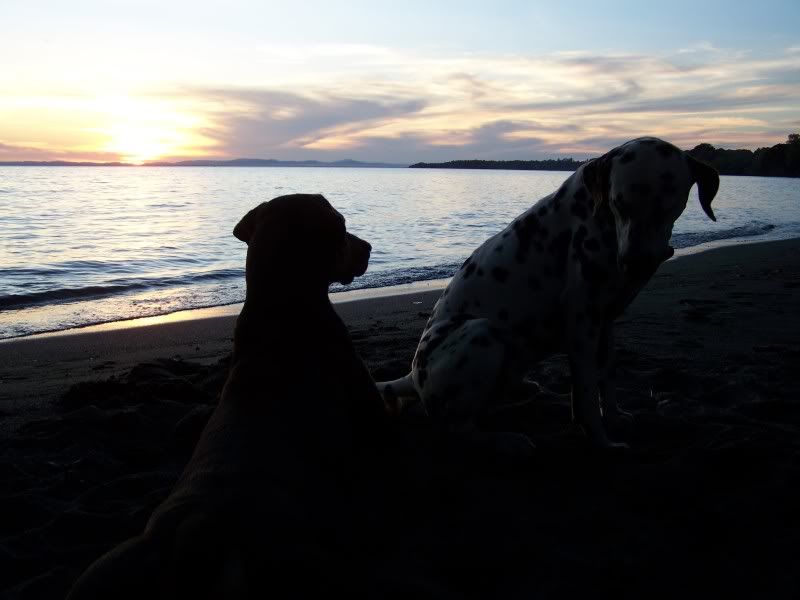 Two pups hanging out by the water.
Not a bad way to end the day!
Day: 273
Location: San Jose, Costa Rica
Well, these plans they keep a´ changin! Although at this point I am taking for granted that the only constant on my trip is change, but that is OK, I like to travel by the seat of my pants.

Sarah and I met up a day later than anticipated in Managua, and then took off to Leon. From there, We went for a few days to a wonderful beach called Las Penitas. I almost do not want to spill the beans on it as it is such an amazing place, but it is already turning into a tourist town and so I doubt my blog will do much to speed up the transformation.

Essentially Las Penitas is a small fishing village on the Pacific coast, but now it is turning into a tourist and surf destination. To get to it you have to grab a chicken bus down a long, bumpy dirt road. The town itself is really just two streets along the water with untouched coast along either side of it. We went for a walk down the beach for a few miles and saw nothing in either direction from the town but wild grass land, sand dunes and beautiful ocean. It is remarkable how untouched parts of the coast in Nicaragua are. Especially the Caribbean side, there are hundreds of miles of virgin coast line there, but also no infrastructure at all.

At any rate, Las Penitas is a great place with sunshine, nice people (as is true is all of Nicaragua, I have found) cheap hotels and great food that comes in large portions.

We planed to only stay for the day but ended up staying for two. I will assuredly be returning to that town at some point in my life. I have some great pictures, but i am having trouble getting them uploaded. I will do so as soon as possible though.

Back in Leon there was a huge festival celebrating the Virgin Mary. We didn´t actually see much of it as we left town that same day. We did see a lot more of the strange costumes that I saw last time I was in Leon. They consist of a group of kids, usually boys, that roam the streets. There is always a big costume of a woman in a hat, that stands about 10 feet tall, and a little costume of a man with a great big head and little arms and legs that is about 5 feet tall. Two little boys wear these get ups, while two to three other boys play an assortment of drums. They roam the streets dancing and banging on their instruments getting people they pass to dance with them. It is really neat and good for a belly laugh when you see them going full swing.

Leon is a very cool place. Each visit has me liking it more and more. It is a bit run down and at first you feel like its a bit on the dirty side, which it is, but it has a charm you catch on to if you stay long enough. At night, families sit in front of their homes talking and passing the time, and kids run around playing soccer and baseball. It is a very safe feeling city unlike some you encounter in Central America. There are also a load of beautiful churches and squares to check out if you are so inclined. There is also a cemetery which is huge and full of some amazing tombs, although the grounds could use a bit better maintenance!

I have really come to feel normal and at ease in Central America. I forget how much of a shock it is for people from the west to come here and experience all of the differences. For me it just feels normal now to have cold showers, ride crowded chicken buses and walk the chaotic streets of the cities. You come to realize that life is essentially the same for everyone, its just the details of how one goes about it that change. But, we tend to notice the differences first and they can shock us at times.

I am now in San Jose, Costa Rica, getting ready to head to Panama City tomorrow. I am going to catch the first boat out of here into Colombia which I am very excited about. Sarah and I decided to part ways, and my Buddy is going to be a lot later getting to where I am than I had thought, so I am going to catch up with him, or more precisely, he will catch up with me in South America.

I have an 18 hour bus ride tomorrow, then I should be out of Central America (finally!) within the week. I am very excited to change Continents after me extended, but wonderful stay in Central America.