Day: 132
Miles: 300
I am now in a town Called Rio Dulce in Guatemala. After spending two days in Livingston, I took a boat up river to the next town with highway access, as Livingston is only accessible by ship. It was another rough boat ride as we made the journey through pouring rain in a small, non enclosed water taxi. The boat's captain gave us some plastic sheet to wrap around ourselves, but it didn't do much. Everyone was soaked after the hour and a half journey.
Its a shame I couldn't get any pictures of the ride though, as it was absolutely stunning. The river runs through a large canyon that is filled with all kinds of beautiful plant life, animals and ruins. There are little fishing villages along the river too, where locals paddle out in canoes to catch fish and bring back to their little palapas. It was truly a sight to see, even in the pouring rain.
I met some really cool people to hang out with and the first night in Livingston things got a little out of hand. The hostel we were staying at (Casa de la Iguana, fantastic place) was full of travelers from all over the world. We all hung out that night and started playing drinking games and it turned into a pretty wild night. I somehow ended up doing a strip tease on the rafters of the bar wearing an English girl's bra (Dad, I know reading that made you proud of your son!), and I blame it all on peer pressure and the cheap, strong drinks! That was just a small sample of the kind of antics that were going on all evening. It made for a very memorable night, to say the least.
A group of us all went up to Rio Dulce together and have been here since as it has been absolutely pouring rain. At $2.50 a night for a bed in a hostel that is literally on the water, I don't mind hanging out for a while. I hope it clears up tomorrow though, so that I can hit the road.
We had a fairly international group too, with Belguim, Norway, Israel, England, Finland, Japan, Canada, Ireland, America and France all represented in our group. That is truly one of the best things about hostels; meeting so many cool people from all over the world.
Rio Dulce itself is a small town that is the safest place to leave boats in the Caribbean, so it is chock full of yachts and ex pats. It is very interesting little town, and I have been enjoying my time here. Guatemala has turned out to be a really awesome place and you could easily spend a few months here. It is cheap, there is tons to see and do and the people are nice. All of the travelers I have met that have been touring Central America have said Guatemala has been their favorite, and I can see why.
One very interesting bit of information, a French guy who has been hanging out with us just bought a house in Guatemala on a mountain overlooking a lake. It is a three bedroom home with a fenced in yard. He paid, get this, $3,000 for it!! I couldn't believe it, and he is now the owner of a nice home with a magnificent view in the Gutemalan highlands. Talk about a deal. If you ever needed to get away from the craziness of western life, you could come out here with 10 grand, buy a house and live WELL for a year or two. That is pretty crazy.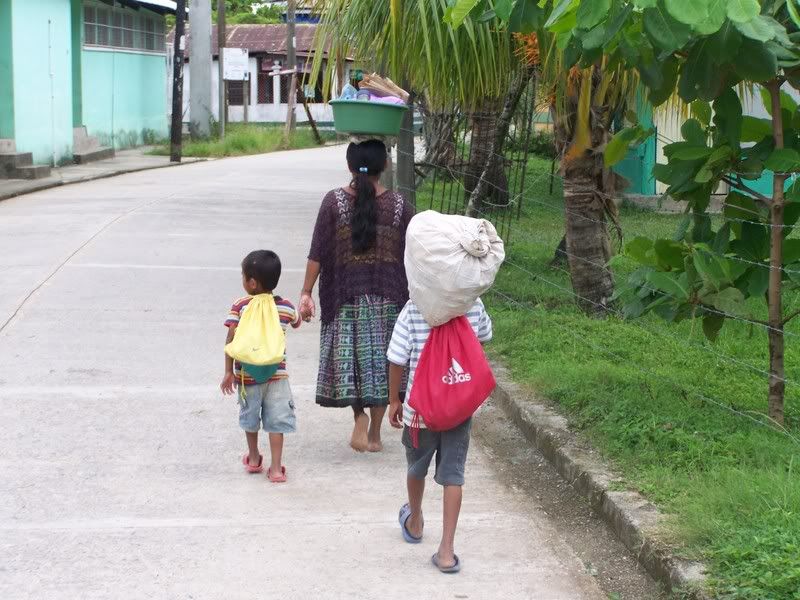 A local family coming home from the market.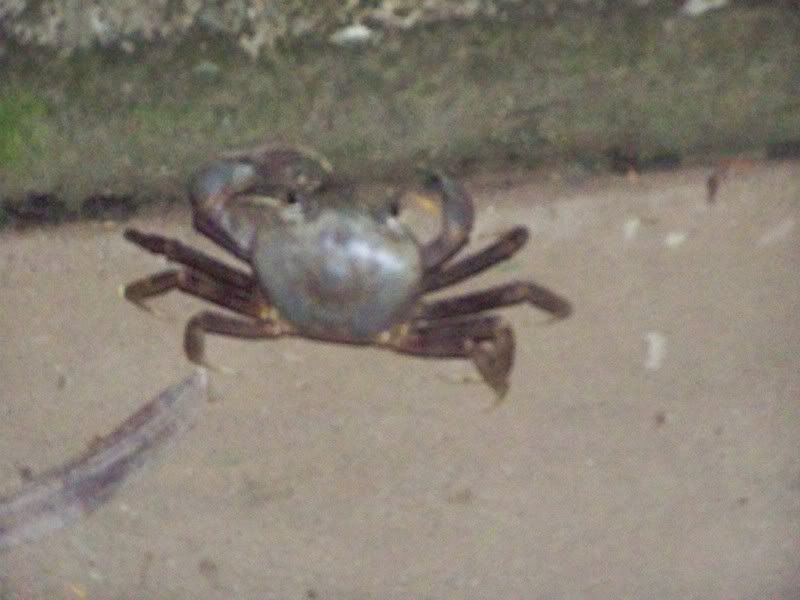 Rush hour traffic in Livingston.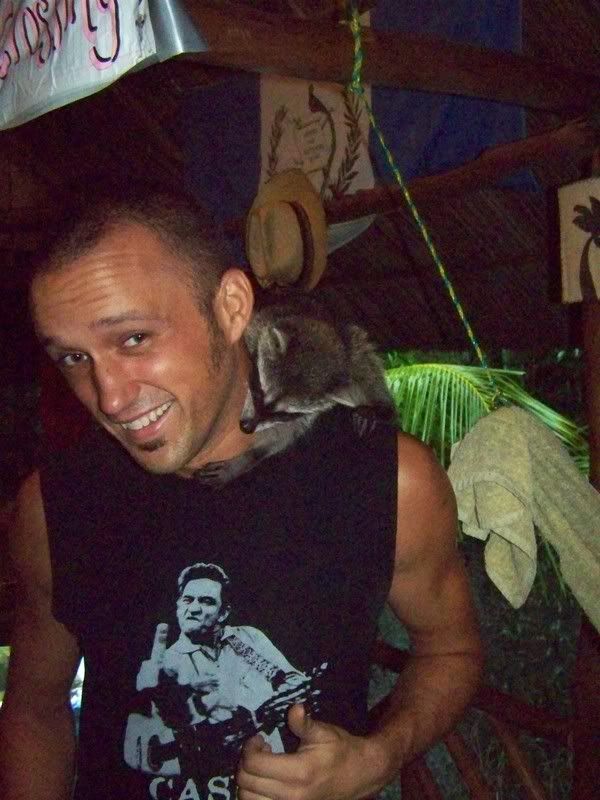 This raccoon liked me, unlike the last one!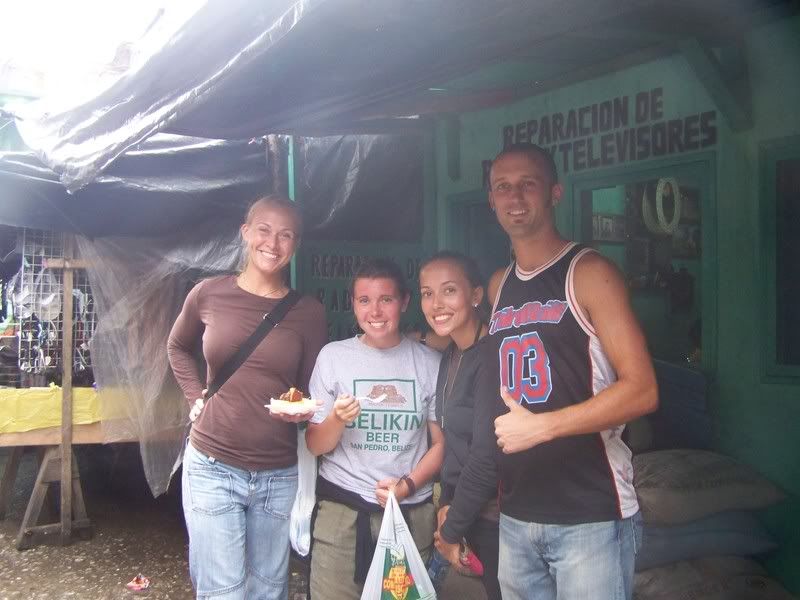 Anna, Sarah and Michelle, some really great girls I met and have been hanging out with.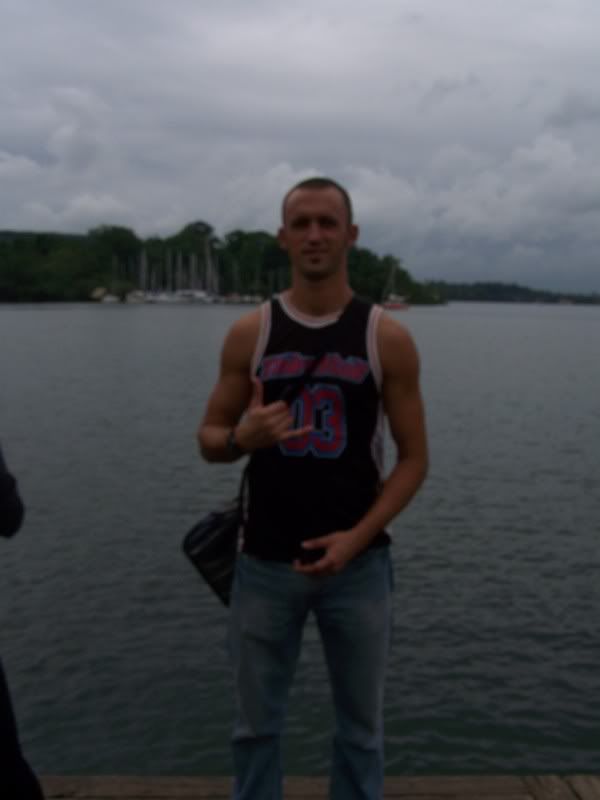 One of the hundreds of docks in Rio Dulce.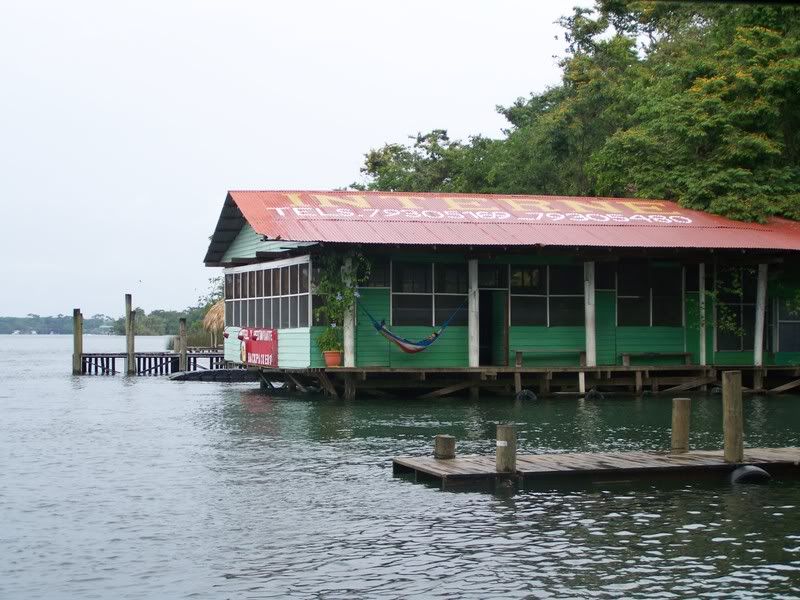 My Hostel (Hostel Backpackers)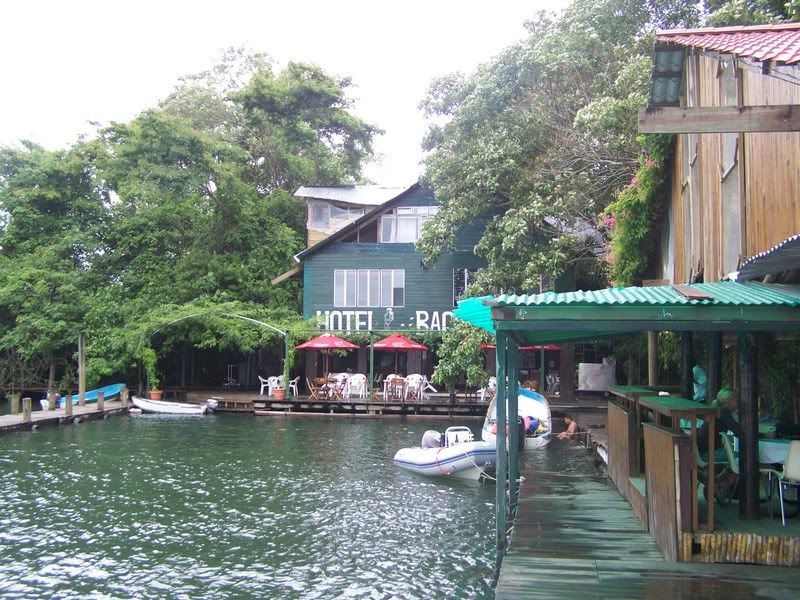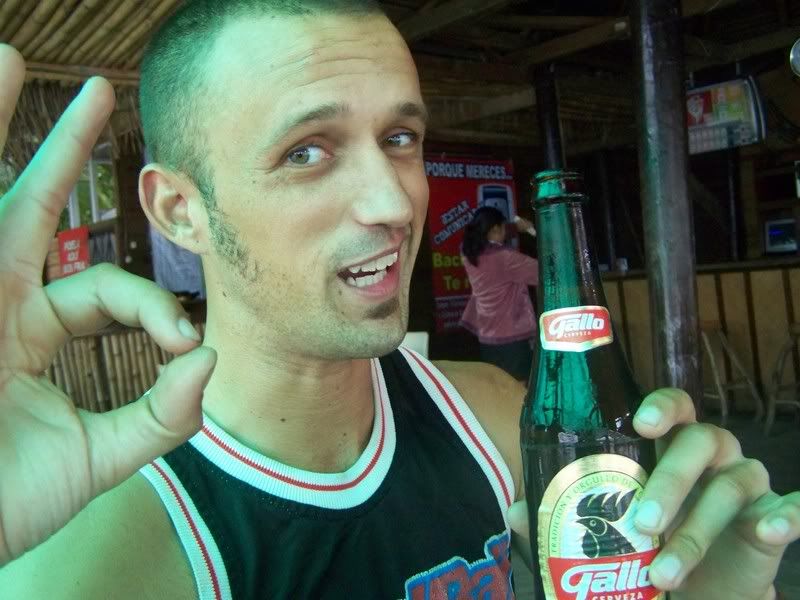 Me, enjoying a cold beer with my new friends.