Milage: 62
(pictures arent loading right now, will add them later today)
Yesterday ended up being a mission and a half! I meant to go to a camp site about 7 miles out of Casa Grande to sleep for the night so I took my sweet time getting my blog updated and answering emails yesterday. I didn't hit the camp site until about 4 pm. When i got there they wanted $22.50 to put up my tent! Highway robbery i say!
But they were nice enough to let me fill up my water and pointed me in the direction of another camp site about 15 miles up the road. Well, it takes me about an hour to set up camp and cook dinner and wash up and the sun goes down at about 7pm. So that left me about two and a half hours to get to the next camp site. I usually cruise at about 12 mph but i had a head wind so i was only going about 10 mph. I ended up getting to the next camp site at 5:30pm. They wanted $16 bucks to put up a tent, wtf?! That is just stupid so i said screw it and hit the bike again and hauled butt to the state park another 7 miles up the road. I found a nice tree to set up my camp under around 6pm and was treated to a beautiful view of the desert at sunset. I fired up dinner and got ready to go to bed. About 8 pm i heard some shuffling outside my tent and there were about 10 cows just sitting there staring at me, which I thought was funny. They must have liked me because they all laid right down and went to bed at my camp!
This morning I woke up to frost, it was freezing!! I had to put on my riding beanie, winter gloves and pants and it was still really cold on the bike. the sunrise though was beautiful and I set out on the 10 east to try and make it to Tucson where I would be taking a rest day at a host home from couchsurfing.com, which will be my first time using that site.
Some advice; don't ride on the 10 east in AZ!!! About 5 or 7 miles past the Picacho state park, the shoulder disappears and the highway is under major construction. I had to ride on a crappy slab of cement that was covered in rubble and trash that was only about an arms length from zooming traffic. I was pushing and carrying the bike as much as riding it. After that, i didn't even have the slab of road to ride on and I was off roading through broken glass and garbage on the side of the freeway. That was no fun. Eventually I found a frontage road that took me into Tuscon.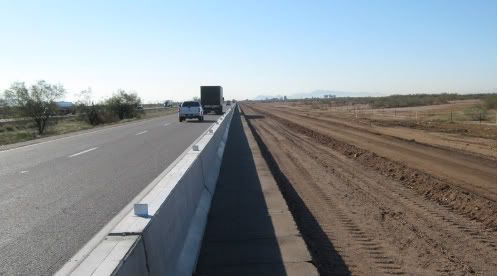 I am really looking forward to a rest day, my body needs it.