And what a day of firsts it was!
My first century (100 miles in one day)
My first time cycle touring
My first flat tire
My fist time hauling a trailer with 70 lbs of gear over a mile
My first day of a new lifestyle and a huge adventure.
I set out Monday morning at about 6:45am, right at sun up. I was up till nearly 1am the night before getting last minute preparations out of the way and was up at 5am. It was tough to say goodbye to everyone, especially a certain girl who had become very close to me in the last few months, but my mind was set on making this dream come true.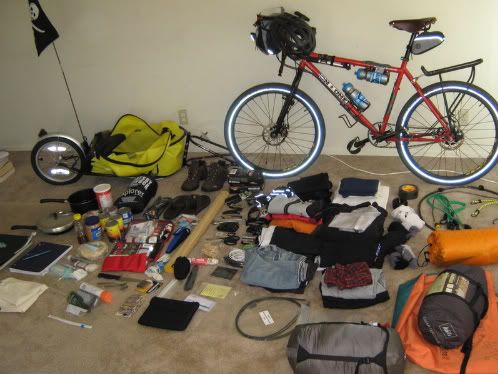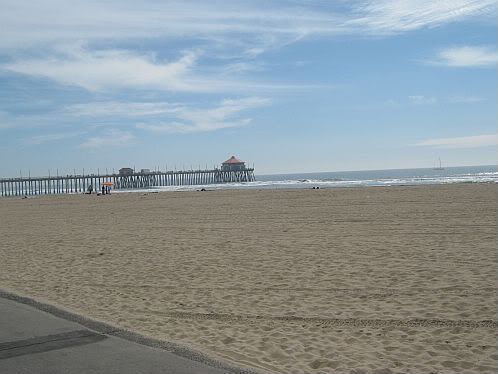 I set out with my heart racing, after 4 years of anticipation, here I was finally leaving. It was a surreal feeling and after saying my goodbyes to my best friend and roommate, I set out towards the unknown.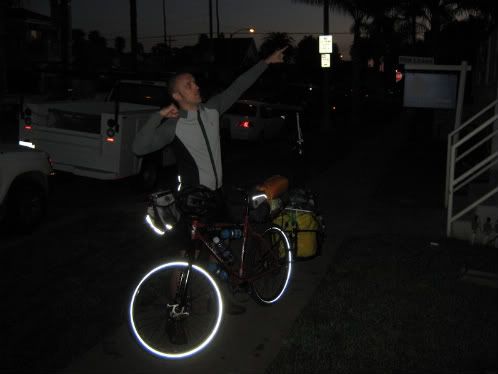 I discovered one key factor quickly. Climbing hills with a 70 lbs trailer when you aren't in the best shape is about as fun as getting kicked in the nuts! Going along Pacific Coast Highway from just south of Newport Beach through to San Clemente is rolling hills. They are small but steep and consistent and after about the 4th hill I was contemplating calling 911! I also blew a flat coming up one such hill on my BOB trailer. Great! A flat on the first day after the first 20 miles! Not a good way to start. The tire liner I had put in the trailer tire to prevent flats had somehow folded over on itself and slit the tire. So much for that. Luckily a really smart girl had gotten me a patch kit for my birthday and I was able to keep going.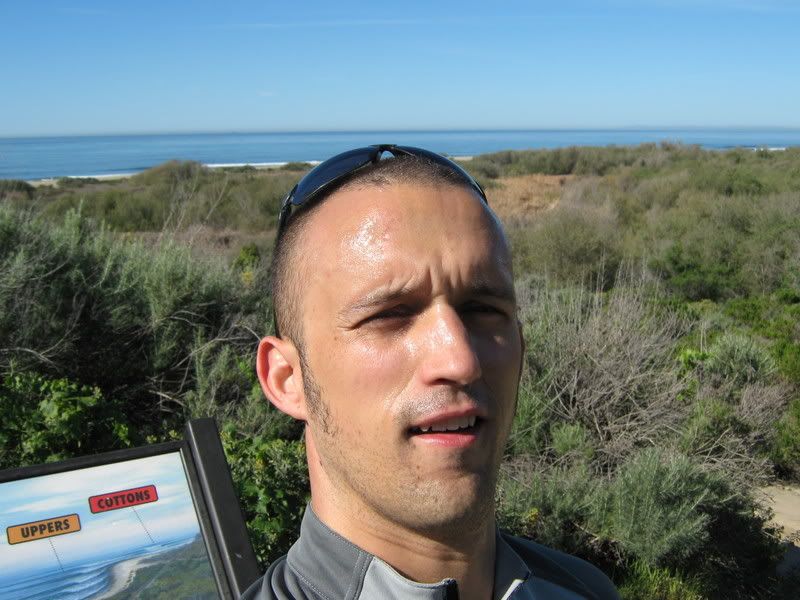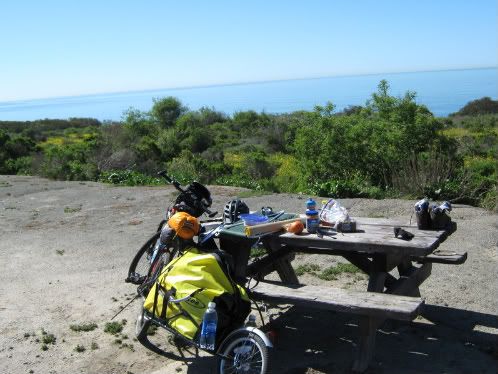 I stopped for lunch in San Onofre and that stretch of riding is fantastic. At this point, about 40 miles into the ride, I was loving life and having a blast. After lunch I packed up and took off through Camp Pendleton along the 5 into Oceanside. I stopped for another break in Leucadia at about the 70 mile mark and at that point I was hurting so badly that I was hoping someone would come and steal my bike! In retrospect I should have camped out there at San Elijo but I decided to keep on riding. I quickly regretted my decision as I had to climb a monster of a hill coming up into La Jolla. I want to go on record as saying that no hill has the right to be that steep!! But I kept riding and eventually made it to downtown San Diego, and boy was that a good feeling. I stayed the night in my ld apartment with some of my best buddies. I love San Diego and am always happy to come back to this wonderful city.
I knew the first two weeks would be painful as I got back in shape, but going for 100 miles fully loaded on my first day when the longest bike ride I had ever done on an unloaded bike was 40 miles, was not the best decision. But, I know that I am capable of doing it if needs be and in time will be able to get through rides like today with far far less difficulty. From here on out I will ride less miles and build myself up to my goal millage, and, not forget to put sunscreen on my thigh! It was a learning day and I learned a lot. I cant wait to get some more miles behind me!