Day 32
Wednesday Mileage: 65
Thursday Mileage: 35
Wednesday was one of those days. First off, i didn't sleep much Tuesday night. Stephen Austin state park is beautiful, but I camped right in a Raccoon's territory and the little bugger kept messing with my stuff all night! Even when I put my gear literally under my hammock (which i have been using due to all the trees around) he would sneak up and try and get at my food in my trailer, inches from me. I had to scare him off about 5 times. He even chewed a little hole in my camp chair which was bungeed on top of my bag. I hope someone turns you into a hat, you little booger!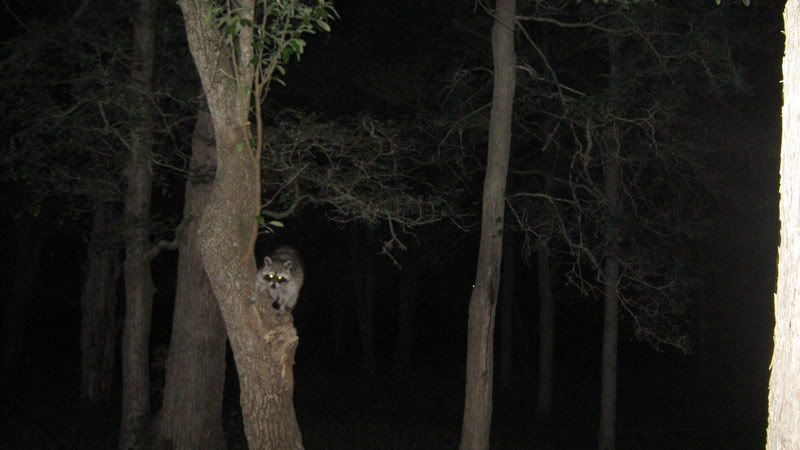 Anyway, I hit the road at 7 am hoping to make it to Galveston Island on the gulf coast of Texas which was 100 miles from where i started. Its all very flat out here and so I didn't think i would have any problems making the distance, even with the lack of sleep.
Well, mother nature had something to say about that! I had a fierce headwind all day with gusts up to 55 mph. It slowed me to a crawl and I only made it 65 miles before I just flat out hit the wall and my left knee started to ache for the first time since I got the new pedals.
Also, unless you have a death wish, DO NOT RIDE THE 99 THROUGH HOUSTON!!!!! That is no question the most dangerous road I have ridden so far. It was worse than any mountain road, no-shoulder country road or dirt road that I have gone over in my life. The road has no sidewalk, so shoulder and no bike lane, and to make matters worse, it actually sits about 6 inches below ground level. So you are riding though heavy city traffic with a curb forcing you into the lane with big rigs and trucks going two abreast within inches of you. There is grass on the side so you cant get around riding on the road. There were no alternative routes either, that I could see. The drivers were pretty rude too, honking and yelling, and im thinking, buddy, shove it, I don't want to be on this road any more than you want me too. I exchanged middle finger waves with a few of the most outspoken jerks. That was the first time I have truly felt worried for my safety while riding. It was white knuckle for about 20 miles of frantic pedaling into a strong headwind thinking that at any minute some idiot talking on his cell trying to change the radio station is going to clip me.
On the bright side, there were more wildflowers which are just great, it makes you feel like you are riding through one of Monet's paintings.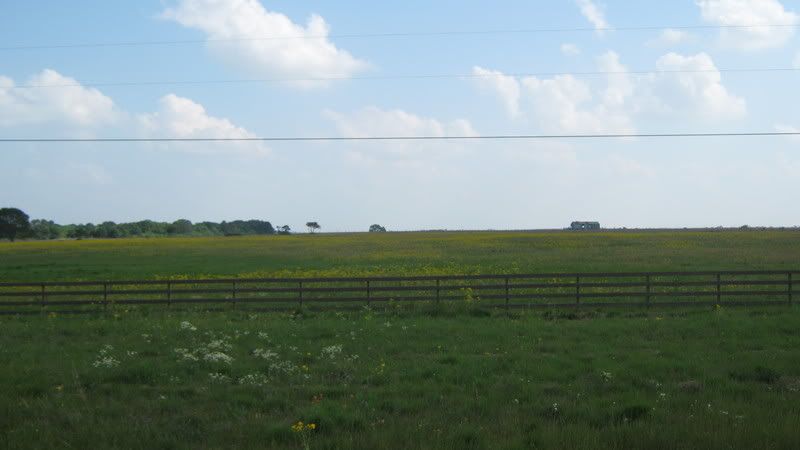 Well, I got about 35 miles from where i was going and I found a nice spot to camp out. the vegetation out here i so thick, that you feel like you are in the jungle. It is literally a wall of trees and vines on the side of the road. I found a little break in the trees that led into a clearing that was great, out of sight and quiet....or so I thought!
Right when it got dark and I put away my book and got into my hammock to catch some Z's, a freight train came through about 30 feet from where i was sleeping! Argh!! Of course, the conductor blew his ridiculously loud horn right as he was passing me. The bush was so thick I didn't see the train tracks. Well, this continued all night, every hour or so a big train would come honking and creaking by.
I made it to the Gulf Coast today, and as i was about to ride the new bridge over to Galveston island, I see that the bridge is still under construction and not allowing bikes... great! There are three ways onto Galveston, this bridge, a ferry, and another bridge, either of which options are over 70 miles away! Well, I sure as heck was not gong to give up, so i went into the very small town of Tiki Island to see if i could figure out some way across. Tiki island is a beautiful community, its right on the water, with each home having water access right up to the back yard. About a 1,000 homes total, very clean and as I was about to find out, full of incredibly nice people.
I went to the administrative building there and asked how I could get over the bridge to Galveston and before I knew it, the local Sheriff, Director of the water works, and about 4 other incredibly nice people were all there trying to help me get across. Three people got there trucks and offered to give me a lift, then they started asking me questions about my trip and insisted that I wait for the local news man to come and ask me some questions and take a few shots of me and the bike for a story in the paper! I couldn't believe how nice everyone was, they even offered to make me lunch. It was the kind of moment that makes you believe that the world really is full of good people. Thanks to you Mr. Charlie Hall, for giving me a lift over to the island! And to everyone else for being so incredibly hospitable.
Anyway, I am gong to stay at the Hostel here in Galveston and I think I may even stay two nights, its really nice here and laid back It reminds me of California a little bit.