Day: 46
Mileage: 103
Total Mileage: 2484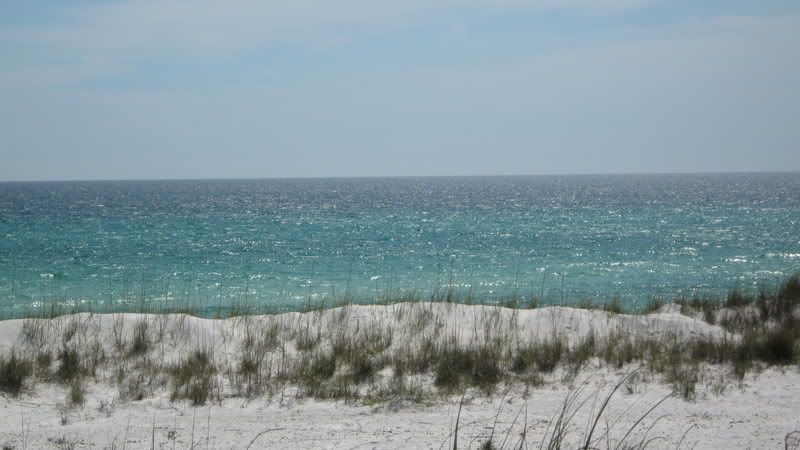 I made good time today despite stopping several times to go swimming and to eat about 6 times today. The water here is just so beautiful! It was aquamarine and crystal blue all down the coast. I never realized the Gulf side was so pretty. I went through Panama city toady and I have always wanted to check this place out. It is a legendary spring beak location in the states, and i have always loved a good party! It is really a beautiful place until you get into the really touristy part and all of a sudden it becomes this big built up, tacky mess. Panama City itself, is pretty rough. Can't say I would want to live here right off hand, but who knows, there my be more to love than I saw riding through.
I was going to stealth camp out in the woods, when a guy pulled over and told me I should rethink camping out in that particular area (guess I wasn't so stealthily after all!). He was a really cool guy and he pulled out his digital camera and showed me a picture of an 11 foot Gator that he had taken the day before in the exact place i was going to sleep! Yikes! So i thanked him, packed up and rode into Mexico Beach and am camping there tonight. That could have been really bad.
One lat thing, I came across really negative in my last post. There is nothing wrong with riding across America with the adventure cycle touring association at all. Its like running the Boston marathon, it is no less of an accomplishment just because a thousand other people do it with you each year. You don't have to be Indiana Jones to have an adventure....I just want to!
Also, the other cyclists I met at camp were super nice guys, they were just use to bumping into other cycle tourists where i was not.
Well, i am wiped out, time for bed.