Day:
Mileage:
Total Mileage: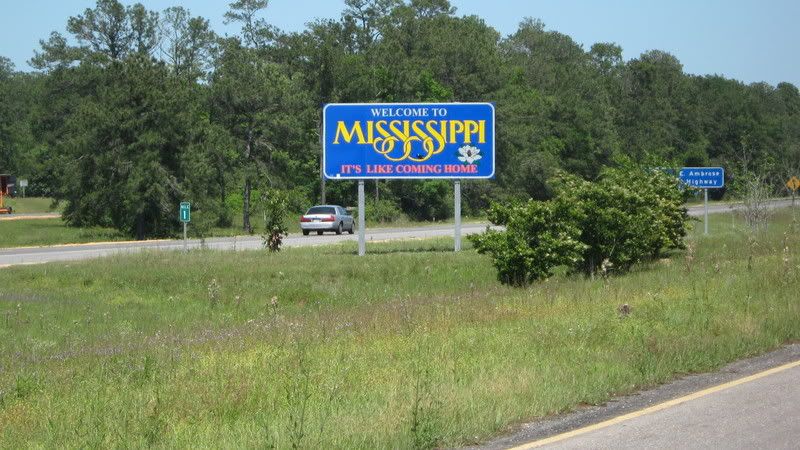 I left New Orleans at about 8:30 am yesterday and made my way out on the 90, which is a nice hwy for LA standards, with a big paved shoulder, not too much traffic and beautiful scenery. It was tough to leave though, I have to admit. I really wanted to stay another week for the upcoming jazz fest and to hang out longer with the cool people I had met there. But, I needed to move on to stay on schedule, which is something I have been thinking long and hard about, but ill come to that later.
At any rate, I was hauling butt out of LA on nice flat roads and, are you ready for this, the first day with no wind in weeks! Yes! I felt like my bike had grown wings with the lack of head wind. Well, my dream of having wings was more accurate than I had thought because I soon felt like Icarus when my rear wheel took a nail clean through the tube, tire liner and tire landing me on the side of the road in the heat, 25 miles from a town in either direction. That was no good. And, in all the fun I was having in New Orleans, I had forgotten to get a spare tube.
So i had to flag down a friendly stranger who gave me a ride to the nearest town...25 miles northwest. Ouch! That is the opposite way I wanted to go. So by the time I got new tubes, replaced them (and of course, it was the rear tire again) and made it back to where I was, I had lost a lot of time.
I eventually made it to Mississippi, over another big, scary ridge with no shoulder. The gulf coast of Mississippi is nothing like i expected. It is very beautiful, but also still very devastated from the hurricane. here is a really strange mix of people here too, for a beach community. I ended up having to sleep in a hotel again because i didnt make it to the state park i was shooting for due to all of the delays i have been having. Oh well, i got a nice sleep and shower and continental breakfast.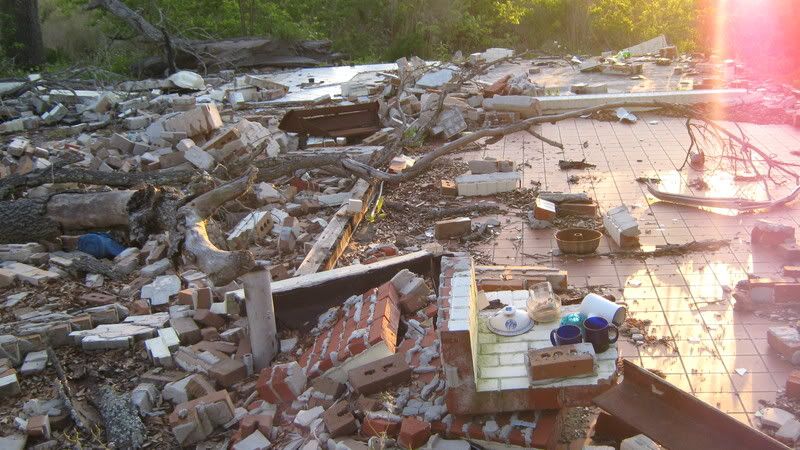 I will be in Alabama later today, and there is no wind so far today (knock on wood) and flat terrain, so i should be able to make good time. And here is a MS bridge, they know how to build them right!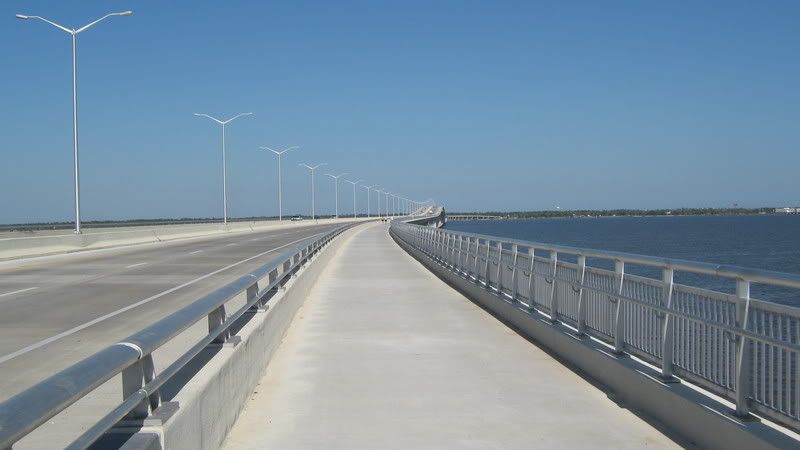 One last note, I am considering making a pretty big change in my route plan. I have been thinking about this since New Mexico, but I am just about convinced that this is the right change to make. I am thinking about cutting out the rest of my North American tour after I get to Miami in favor of going straight into Mexico and then slowing my pace. That way, i will have 10 months to just cruise down the pacific coast of Central and South America and really take the time to enjoy myself. It dawned on me when I was in New Orleans and in Austin that I wanted to stay longer, but i felt compelled to leave to maintain a schedule. I am on this trip to get AWAY from schedules! If i try to do everything on the first leg of my trip that i want to in the time frame i proposed, I will be constantly on the move at a fairly fast pace.
I think I will have more fun if i take the pressure down a notch and slow down. It stinks though because I am dying to go to New York, DC, boston, chicago and Yellowstone, Arches, Zion, Moab and the Grand canyon. Those are things I most want to check out in the USA, but, i can also go back to those places anytime from home. I am itching to get to some more exotic locales too. America is great, but it is also my back yard and i am getting sick of riding past one town full of fast food joints and walmarts after another.
My mind isnt made yet, but I am pretty sure that I am going to make my way into Mexico from FL and then slow my pace so that I can spend more time doing things besides riding. I think that will make the journey more enjoyable. The world is a big place! But quality vs. quantity comes into play too when trying to see it. And, I can also fly into New York when i come home, and then ride back to California on my way home.